Sat Nam Dear Ones,

We're VERY close to completing this year's long-awaited Holiday Wellness Specials. We will be releasing the details early next week.

To help you to stay balanced and strong, we are going to offer specials that leave you empowered to finish 2014 with spirit, and eager for the opportunities of the new year! It will include treatments for easing stress and boosting the immune system, and a special offer in partnership with Sat Ardas Dynamic Massage. It is going to be a great way for you to support yourself, your friends, and your family.

However, we need your help. Before we finalize the offers, we need to make sure we have covered everything.

This is where you come in. Please take a moment to answer this super-short survey - there are really only two things we want to ask you....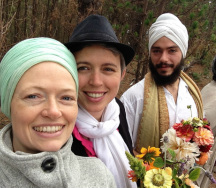 Thank you from the team at
Nihal Kaur Acupuncture!